Painlessly manage your online presentations
We handle the painful aspects of organizing a virtual poster session, from inviting presenters, collecting abstracts and uploads, and publishing the results for visitors.
We do the hard stuff. You're in control
Handle the behind-the-scenes work necessary to pull off a successful virtual poster session, completely online.
Manage data collection

Invite presenters, collect and format abstracts, accept and process PDF poster uploads, manage descriptive information, and enable presenters to connect with their audience.

Self-service

No time-consuming back-and-forth with organizations or presenters. Send secure invitations, track responses, and manage access control and sharing details directly from a streamlined administrative interface.

Bring-your-own communications

We don't force a single chat platform. You and your presenters can use Zoom, Webex, Microsoft Teams, or any other provider that can provide a one-click access link. Don't want video chat? We're flexible - simply swap in pre-recorded video links, a chat room, or calendar signup for attendees to get more information.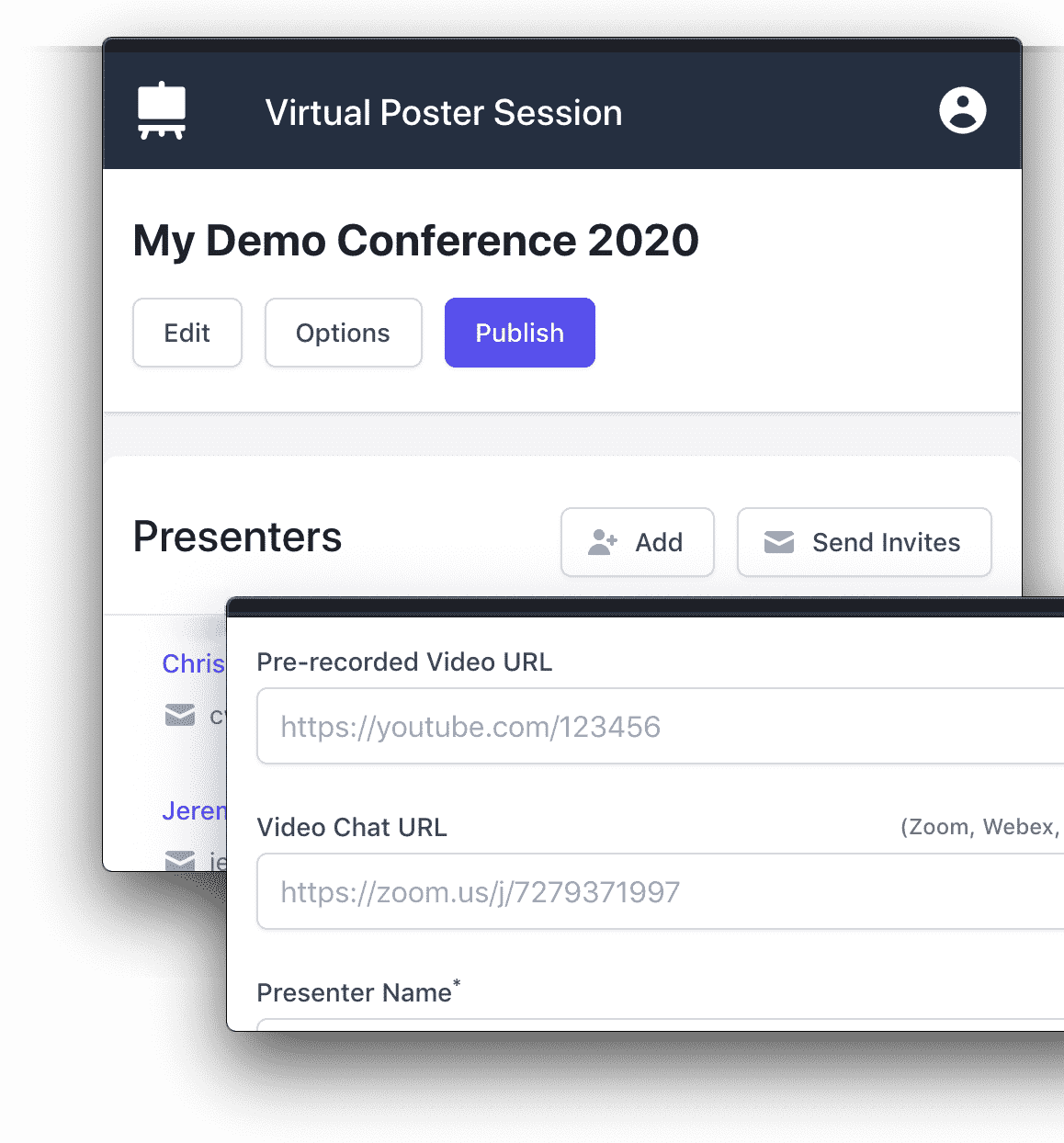 Get started in 15 minutes!
As a self-service platform, there is nothing standing in the way of your next virtual poster session.
1. Basic Session details

Enter your basic session details, including a short description and optional links to the rest of your conference program.

2. Collect presenter info

Enter the name and email address of your presenters, and we'll send them an invitation to enter in their content and upload a PDF of their poster. You can sit back and track responses from our online dashboard.

3. Publish securely

Once the posters have been collected, we provide you with the tools to publish the session online. Sessions can be password-protected or publicly posted, and custom web addresses are available to share in your messaging.
How it works
Organize Presenters
Organizers only need to provide Name and Email address for each presenter. Presenters can bring their own video chat service to meet with visitors during the session. We like Zoom the best, although we have also seen pre-recorded presentations on YouTube and text-based chat with Discord and Slack.
Post the details
Presenters fill in their poster details and provide a poster PDF so that visitors can zoom in and read the poster clearly while chatting. On the day of the Session, visitors can browse the posters and see thumbnails easily before contacting authors. See a live example session.
Simple and Secure Sharing
We don't have fancy graphics or gimmicks to steal attention from the research being presented. Visitors do not need to register to attend any Virtual Poster Session, although password-protected listings are available! We take privacy, security, and simplicity very seriously.
Leading a research team? We can help!
We're also building Delv, the first Project Management tool designed for academia. Easily track students, papers, proposals, projects, and report progress from one place. Sign up to be notified when we launch!