Painlessly manage your online presentations
We handle the painful aspects of organizing a virtual poster session, from inviting presenters, collecting abstracts and uploads, and publishing the results for visitors.
We do the hard stuff. You're in control
Handle the behind-the-scenes work necessary to pull off a successful virtual poster session, completely online.
Manage data collection

Invite presenters, collect and format abstracts, accept and process PDF poster uploads, manage descriptive information, and enable presenters to connect with their audience.

Self-service

No time-consuming back-and-forth with organizations or presenters. Send secure invitations, track responses, and manage access control and sharing details directly from a streamlined administrative interface.

Bring-your-own communications

We don't force a single chat platform. You and your presenters can use Zoom, Webex, Microsoft Teams, or any other provider that can provide a one-click access link. Don't want video chat? We're flexible - simply swap in pre-recorded video links, a chat room, or calendar signup for attendees to get more information.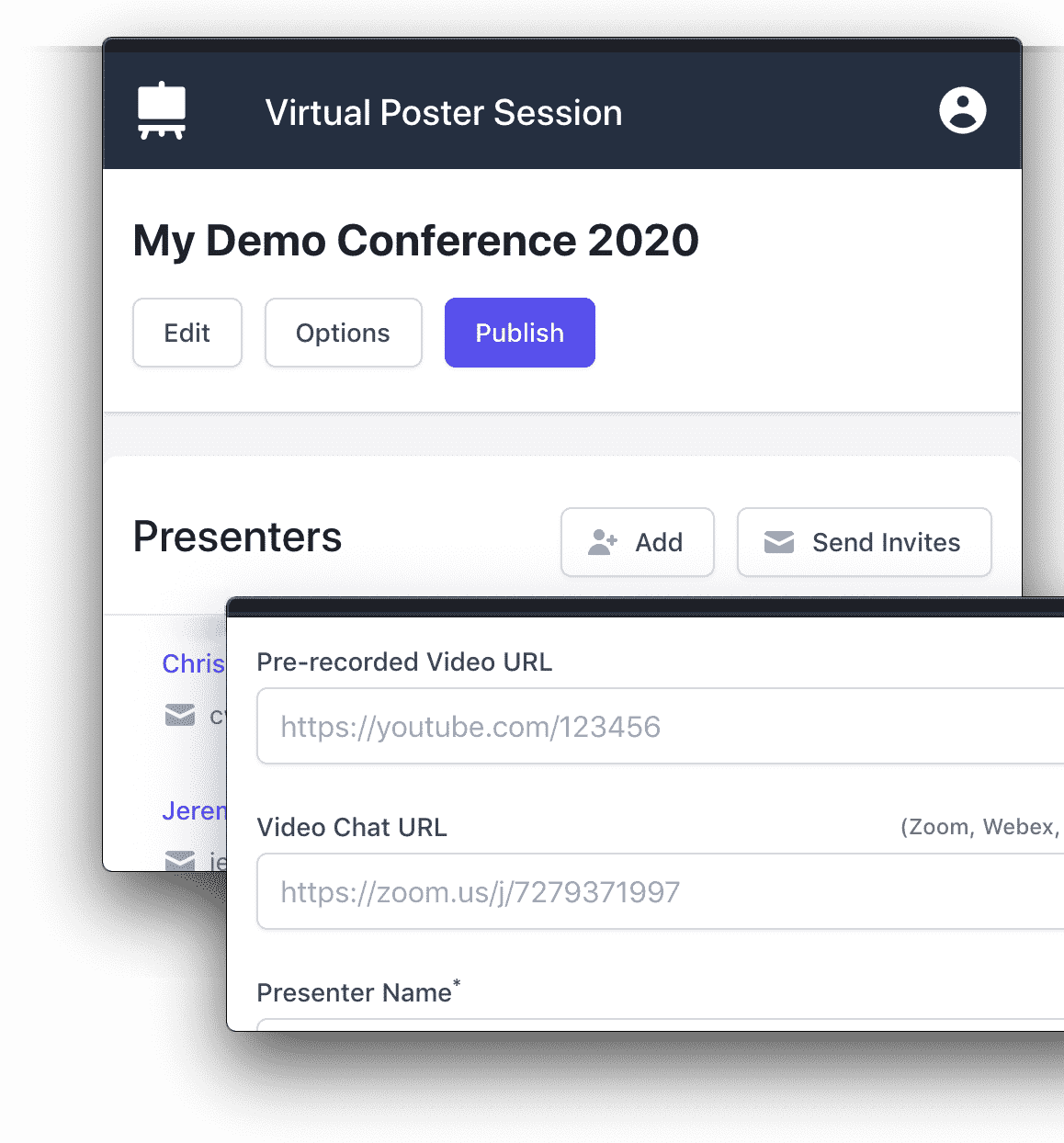 Get started in 15 minutes!
As a self-service platform, there is nothing standing in the way of your next virtual poster session.
1. Basic Session details

Enter your basic session details, including a short description and optional links to the rest of your conference program.

2. Collect presenter info

Enter the name and email address of your presenters, and we'll send them an invitiation to enter in their content and upload a PDF of their poster. You can sit back and track responses from our online dashboard.

3. Publish securely

Once the posters have been collected, we provide you with the tools to publish the session online. Sessions can be password-protected or publicly posted, and custom web addresses are available to share in your messaging.
How it works
Post the details
Presenters complete the registration form to list the poster details, and provide a copy of the PDF so that visitors can zoom in and read the poster clearly while chatting. See an example list.
Learn and Share
When the time comes, presenters talk with attendees about their research, have a chance learn something new, and stay connected — even when we have to stay apart.
Never-before asked questions
Is this limited to any domains or topics?
Nope! It will probably be difficult to share any physical devices or do live demos, but if your presenters can use Zoom or Webex or another video chat app, be our guest! We have intentionally left many features optional to make it flexible for these situations.
Why did you make this?
Orginally, we were bummed out about all the conferences we were missing... Conference/workshop Poster Sessions are huge avenues to learning about what's new and sharing our own work. As the situation persisted, we realized that there are a LOT of people that really need easy ways to share online. As we looked for options, we realize many of them were overcomplicated and difficult to use (both as an organizer and a presenter).
Why do you want my email address?
We need an email address to protect against spam uploads, and it allows organizers and presenter to edit or remove their content later. We do not sell addresses, and will only send you messages about your poster sessions.
What's in it for you?
Altruistically, we hope that academic progress doesn't stagnate because of extended quarantine and stay-at-home orders, especially when modern technology and video chat tools exist. A little more selfishly, we also hope you'll check out the app we're building to provide project management tools specifically for academic research teams. Even before COVID-19 we thought it would be useful, but find it is increasingly relevant for remote working students!